Home
-›
Payment-Services
-› Westpac
Integrated Payments
Benefits:
Improved service times


Eliminate manual keying errors


Link multiple devices to one payment terminal


Table side ordering & payments


💳 Take payments from the Westpac Group
Westpac
St George
Bank SA
Bank of Melbourne
RAMS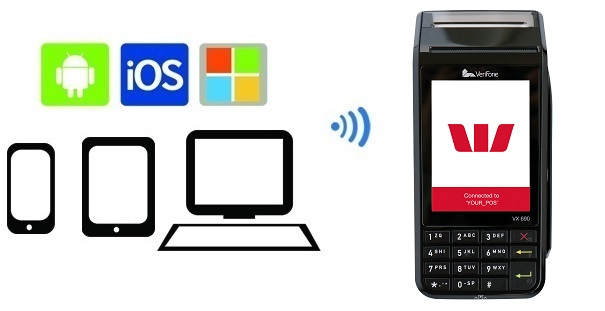 Pair a VX 690 terminal with any Android, Apple or Windows device
VX 690 Terminal - Commands:
Start - Hold "Enter" for 4 seconds or insert into powered cradle
SPI Home screen - "X"
Standalone mode - Enter + "1"
Unpair - Enter + "3"
Configuration Menu - Enter + "5"
VAA information menu - Enter + "8"
Power down - remove from cradle and hold down "X"


Merchant Password for test terminal: "123456"
How to initiate a Load Params:
Enter Standalone Mode (Enter + 1)
Enter Merchant Password (123456)
Press the "Menu" button
Press the "down arrow" button
Press "Load Params"
Setup SplitAbility POS - SPI (Simple Payments Interface):
Settings - Admin - EFTPOS - Westpac
Edit the "POS ID" any upper case character sequence
Edit the "Terminal Address" to match the IP address displayed on the EFTPOS terminal
Select "Save ID & Address"
Select "Pair"
Follow the instructions to confirm pairing on screen and on the terminal
Payments | Refunds | Tipping.
Credit card payment.
Select: Total -› Credit Card Payment - the exact amount is shown.
If paying the exact amount select "Ok", else make adjustments then select "Ok".
The result is displayed in the receipt total.
Printing a customer receipt.
Select: Check -› Print.
Print any cleared receipt from the "Ticket Spike"
Clearing the receipt.
Split payments (cash & card).
Select: Total -› Cash - enter the amount payed by cash.
Select: Total -› Credit Card Payment - the exact remaining amount is shown.
Select "Ok" to process the split payment.
Making a refund.
A negative amount can be entered as a miscellaneous amount or via the keypad.
Negative total amounts are processed as a refund.
Tipping.
Discounts, tips, and other payments can be entered into the POS before selecting the "Card" payment.
These amounts are shown on the receipt information.