Home
-›
Support
-› Floor Plan
Overview: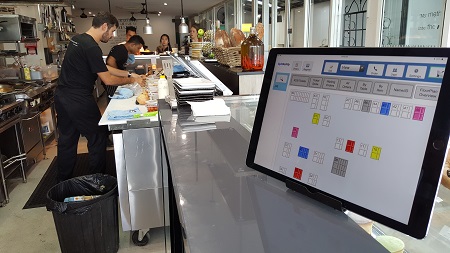 Floor Plan - Table Overview
Table management is built into the system (comes as standard) and runs natively on all devices.
Floor plans:
Show the status of each tables order in a global view


Can be accessed on any device (all devices synchronize)
Allow the positioning of tables to simulate any layout
Tables:
Have adjustable size, shape and orientation.
Are touch active and take the user to the associated ticket
Table status colors:
Blue - Booked
Yellow - Ordering
Red - Sent
Green - Ready
Silver - Served
Clear - Cleared
Note:
The ordering color sequence (Ordering - Sent - Ready) is that of traffic lights (Yellow, Red, Green).
Images can be squares or rectangles, any size or orientation and display the status of all orders in the system.
After registration, a default floor plan is added as a simple matrix layout.
The default floor plan can then be adjusted to reflect the layout of any restaurant or cafe.
Adjusting the floor plan:
Navigate to: Settings - Admin - Floor Plan
Select the table to edit by clicking the table or selecting it's number from the list box.
Adjust the tables location co-ordinates using the "Top" and "Left" setting.
Top - Number of pixels from the top of the screen
Left - Number of pixels from the left of the screen
Adjust the tables shape and size using the "Rows" and "Columns" setting.
Rows - Vertical dimension
Columns - Horizontal dimension
Once editing is complete, hit the "Submit" to save the updated settings.
Support
See also
Support
for further technical details on set up.